Invest in Your Next Leaders
The Emerging Leaders Academy is a talent management program for public sector employees. The program prepares promising, non-supervisory staff for leadership roles in their departments and organizations. 
This work has never been more crucial, as many organizations are facing leadership retirements or vacancies without succession plans to promote existing staff into those roles.
ELA participants learn qualities of good leaders, have coaching sessions with mentors, and develop personal leadership philosophies.  
About the Emerging Leaders Program (ELA)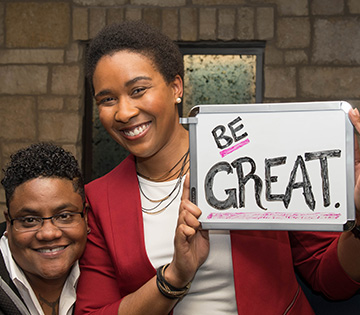 Developed by practitioners for practitioners, the Emerging Leaders Academy is more than just a series of professional development classes. Each class builds on the ideas from previous meetings to create a broad, practical understanding of working in public service environments that meet the needs of our communities and citizens.
Grounded in hands-on activities, each meeting offers valuable takeaways focused on both immediate practical use and long-term career success.
We work to ensure an immediate return for agencies in skill enhancement and engagement.
ELA graduates bring new ideas and a renewed sense of commitment to their work, and this is evident to their supervisors. Once an organization or department sends one or two staff members to ELA, they generally prioritize sending additional staff to future sessions because of the results they see.
Time Commitment
ELA hosts sessions in the Spring and Fall.  Participants meet together 10 times, approximately every other week from February - June, or for the Fall cohort August to December.  Classes are a full day, 9:00-4:00. Online classes are broken up throughout the day to account for Zoom fatigue. 
Investing in ELA
Agencies that invest in sending staff to ELA gain a more prepared and engaged talent pool to draw from for the future, a critical need as many leaders in public service organizations move toward retirement. ELA participants gain knowledge and skills in leadership, organizational dynamics, communication, and career planning to help them identify and achieve their professional goals while equipping them with tools to make even stronger contributions to their organizations.
ELA for Planners

We are thrilled to announce the PMC's Emerging Leaders Academy is offering American Institute of Certified Planners (AICP) Certification Maintenance (CM) credits through a partnership with the Kansas Chapter of the American Planning Association. The course counts for 20 CM credits and one required equity credit. For more information about ELA please visit this link. Thank you, KS APA Chapter!
The cost for the Emerging Leaders Academy is $1,550 per person. 
The fee covers tuition, materials, and end of session graduation ceremony. Most commonly, agencies sponsor their employee's participation. Sponsoring agencies are billed by the PMC once classes have started.
ELA has taught me that leadership is a verb. It's about listening, learning, and focusing your strengths to be an inspirational force for positive change. - Amanda Halstead, Program Analyst, US Environmental Protection Agency, Region 7
Learning about my top strengths was a huge benefit of participating in ELA. That knowledge has provided wonderful insights for my professional and personal life and will continue to be beneficial to me for years to come. - Linda Bruce, Accounting Services, KU Center for Research
Questions? - Emerging Leaders Academy