Andy Huckaba
---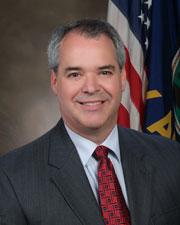 Biography
—
Andy is a three-term City Councilman in Lenexa, Kansas. Andy has been on the forefront of Internet technologies, development, and trends for two decades. He is a member of the Intergovernmental Advisory Committee advising the FCC on issues around broadband deployment and adoption. He served as Chair of the Information, Technology and Communications committee for the National League of Cities where he played an instrumental role in calling for the creation of a national broadband plan and continues to advocate for a world-class broadband infrastructure to improve the global competitiveness of our nation.
In addition to his City Council and NLC duties, Andy serves on the Mid-American Regional Council's Public Safety Communications Board, the Kansas City Metro area Digital Leadership Team, and a number of non-profit boards in the Kansas City Metro area. He serves on the faculty of the Kansas Leadership Center.
Andy is the President of Huckaba & Associates, a management consulting firm focusing on strategy, marketing and technology.